TENUTA FULIGNI MONTALCINO (SI)

VILLA SAN GIOVANNI A SEMITI
The "San Giovanni a Semiti" villa is located in the heart of the Fuligni farming estate in Montalcino where, in addition to the age-old production of its wines, extra-virgin olive oil and grains are also produced. All products are available for purchase by the guests at the main office of the winery.
Extensive vineyards with views of the city of Montalcino, about 5km away, surround the villa. It is also worth noting that Bagno Vignoni with its famous therapeutic hot springs, already known during the era of Saint Catherine of Siena, are just a short distance away (about ten minutes by car).
Cycling excursions are especially recommended along the Cassia Road which winds through the beautiful and rolling countryside of the Val d'Orcia dotted with artistic and architectural treasures in historical town centres (San Quirico d'Orcia, Pienza and Montepulciano further along) in addition to the city of Montalcino with its historical monuments and museums (Fortress and Abbey of Sant'Antimo). We would also like to mention the proximity of the town of S. Giovanni d'Asso within the territory of Montalcino which has found fame among the finest connoisseurs for its exquisite white truffles.
Farmhouse

The Villa

The Villa, a rectangular construction, sits on a hill with a beautiful surrounding view of the Natural Park of the Val d'Orcia and is close to the Via Francigena, an ancient pilgrim route, which can still be travelled on foot and by bike. 

The villa, once the home of the local Grand Duchy's property administrator, dates back to the end of the 1700s with some internal renovations at the beginning of the 1900s and a most recent complete restoration which respected the internal historical structure, materials and fixtures.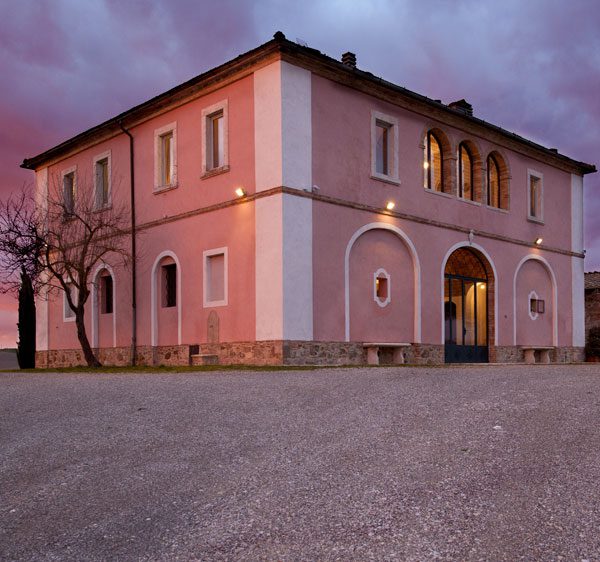 Farmhouse

Interiors

The villa offers four rooms for guests with Wi-Fi, air conditioning and TV, each with its own bathroom (three with the bathroom in the room and one with bathroom in the hall). 
The entire building, about 600 square metres, includes a large vaulted entrance hall with
bright windows facing Monte Amiata and features several sitting rooms with antique furniture, fine Tuscan tapestries and personal furnishings of the Fuligni family.

In addition, there is a library and two kitchens, one of which is spacious and modern on the ground floor (suitable for receptions) while the other is on the first floor near the main dining room. Surrounded by ample space between the villa and the garden with typical Tuscan plants, shrubs and hedges, the villa features a recently built swimming pool with breathtaking views of Monte Amiata (1,764m)